Compact, integrated, multi-parameter weather stations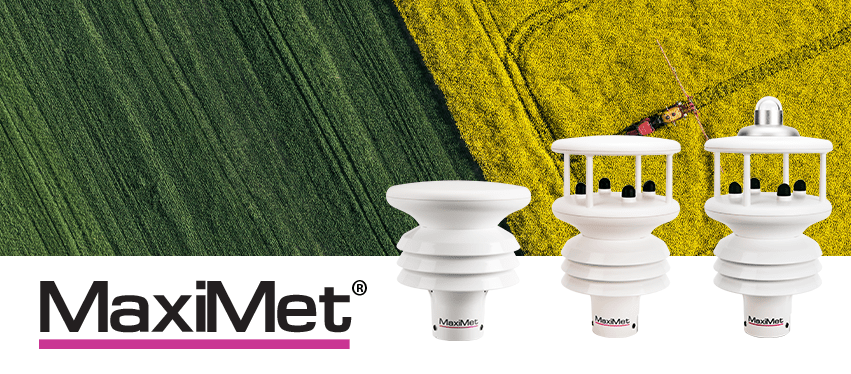 Compact, integrated, multi-parameter weather stations
MaxiMet® compact weather stations have been deployed by a wide range of commercial, scientific and government organisations. The models are used on land and marine applications both for stand-alone measurement or integrated into larger systems. The MaxiMet® range is popular for its robust design, accurate measurement and ease of use.
MaxiMet technical information
All options have low power Eco Mode included.
MaxiMet compact, multi-parameter integrated weather stations - more details
Designed and manufactured by Gill Instruments in the UK, MaxiMet® advanced compact weather stations use proven technology to measure meteorological and environmental parameters to international standards.
Cost, quality and performance requirements are met by MaxiMet® which incorporates many measurement parameters required for demanding applications including: wind, precipitation, solar radiation, temperature, humidity, pressure, low power 'Eco Mode', GPS, compass and many more. 
Output protocol options for MaxiMet® include RS232, RS422, RS485, SDI-12, MODBUS & NMEA ensuring MaxiMet® is easy to install and easy to use.
Environmental protection to IP66 across all MaxiMet® models and MaxiMet® Marine GMX560 to IP66 and IP68. 
Ultrasonic technology is used in MaxiMet® models to deliver highly accurate measurements with no moving parts to wear or recalibrate. As a result, MaxiMet® is extremely reliable and low maintenance.
Available parameters: Wind speed and direction, air temperature, relative/absolute humidity, pressure, precipitation, solar radiation, GPS coordinates / MSL (Mean Sea-Level) pressure / true wind / clock / longitude and latitude / sunrise / sunset / twilight, ground speed, compass, 2D coordinate/apparent, wind, location, height above sea level, averaging (World Meteorological Organization), gust (World Meteorological Organization), air density, barometric pressure, wet bulb, dew point, wind chill, sensor status information, heat index and more…